Oysters! A last hurrah and nod to the Summer of 2016. This article was originally published in the Bungalower at the beginning of the Summer.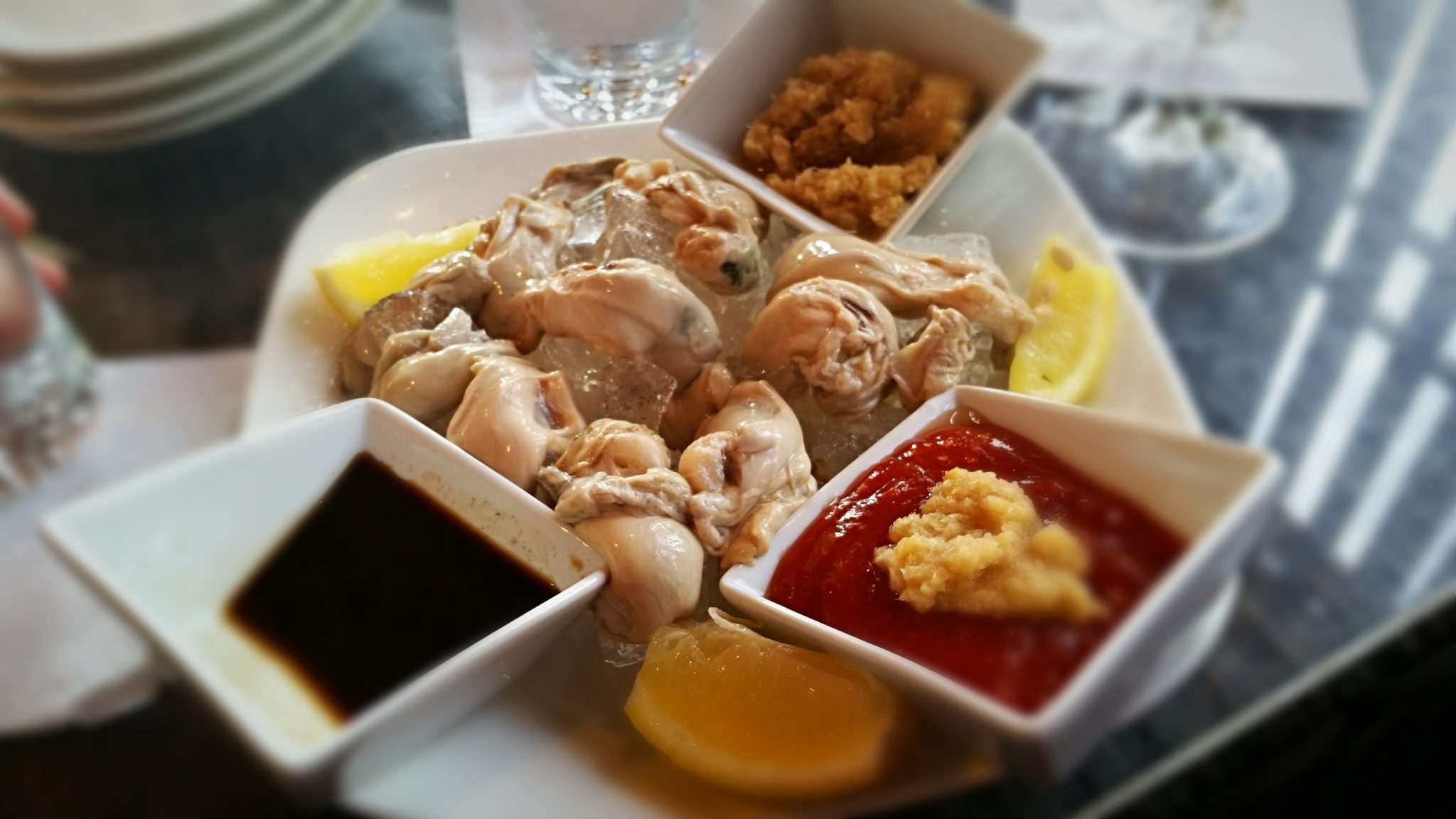 Chef Bob's Love Affair with Oysters
I love oysters. Fresh, big, juicy, raw oysters. But as much as I enjoy eating them, the process to "doctor" them up is just as gratifying. My preference is a squeeze of lemon, dash of salt, splashes of Worcestershire and hot sauces, and loads of fresh horseradish. Truth be told, the oysters are really just the vehicles to transport the horseradish to my mouth.
My career has taken me on many travels, and frequently to popular oyster spots along the eastern seaboard. A favorite, and the barometer for which I grade all oysters against, is Bernie's Oyster Bar on historic River Street in Savannah, Georgia.  Landlocked Orlando has many positives and great features, but ready access to consistently fresh, meaty oysters has proven a challenge. I've been to the tried and true spots outside of downtown Orlando, but my quest was to find delicious raw oysters and tasty horseradish, closer to the heart of the city.
Oyster Quest
My oyster quest took me to three spots featuring three very different varieties of oysters: Ferg's Depot on Church Street (Website), Carmel in Winter Park (Website), and Two Chefs Oyster Bar on Magnolia in the North Quarter (Website).
Oysters at Ferg's Depot
First up was Ferg's Depot! I had not visited previously, but wanted to see the inside of the beautifully restored old train station—what an iconic building! I recommend a visit just based on the atmosphere, décor, and historic connection. It's really like being transported back a hundred years. Their oysters were fresh, and sourced from Chincoteaque Island (pronounced shing-kuh–teeg, ching-) off the coast of Virginia. On a side note, horse enthusiasts may recognize the name from the 1947 children's book, "Misty of Chincoteaque". The Chincoteaque Island oysters are not my most favorite variety—they are smaller, and don't seem to grow quite as plump and juicy as I prefer. However, they do have a rich traditional oyster flavor, and may be of preference to those who are squeamish about larger, juicier oysters.
Oysters at Carmel
Carmel of Winter Park was next on my radar.  Carmel does not normally sell raw oysters on the half shell.  They recently updated their menu with seasonally available items, and added fried oysters as an appetizer. I spoke with the GM, Adam, and asked if they would send 'em out raw instead. The restaurant was happy to accommodate my request, and prepared a beautiful tray of oysters from Hudgins, Virginia. Hudgins is an unincorporated community about half way up the Virginia coast, and is home to U.S. Coast Guard stations. These oysters are larger than those from Chincoteaque, but they are not a variety that is typically served on the half shell.
Oysters at Two Chefs Seafood Oyster Bar
Finally, my last stop was Two Chefs Seafood Oyster Bar in the North Quarter area of downtown Orlando.  Two Chefs had fresh oysters from Copps Island, off the coast of Connecticut–I had never heard of this variety before.  Copps Island Oysters is very dedicated to ocean preservation, and committed to enhancing the oyster beds off the coast of Connecticut. This dedication to protecting and enhancing the environments definitely comes through in the quality of oysters harvested in the area. These oysters are giant, fresh, and juicy. This variety was a real home run in my book.
How About a Little Oyster with Your Horseradish
An important component of oyster eating is the horseradish. Bottled sales of horseradish began in 1860, making it one of the first convenience foods. It is still planted and harvested mostly by hand. Sixty percent of the world's supply grows in an area called the "American Bottoms". This area is a Mississippi River basin carved out by the glaciers, with soil rich in potash, which is a nutrient on which the horseradish thrives. According to the Horseradish Information Council, "In the United States, an estimated 24 million pounds of horseradish roots are ground and processed annually to produce approximately 6 million gallons of prepared horseradish – enough to season sandwiches to wrap 12 times around the world."
Horseradish is a root, and a member of the mustard family (which includes cousins like Brussels sprouts, kale, and cauliflower). The heat or spice of the horseradish comes from isothiocyanate (pronounced \ˌī-sō-ˌthī-ō-ˈsī-ə-ˌnāt\). This volatile compound produces the "sinus clearing heat" when oxidized by air and saliva. The horseradish root does not have this bite until it is grated or ground. Vinegar is added to horseradish to stabilize the flavor and stop the reaction from the isothiocyanates when processing. The point at which the vinegar is added, determines the level of "heat" or "bite" the horseradish carries. Mild horseradish has had vinegar added immediately.  (Horseradish.org)
Two Chefs refers to their horseradish as "Atomic", and while it definitely has a bite, it's not as uncomfortable as some of the other types of horseradish can be and pairs well with the Copps Island oysters. The horseradish at Carmel and Ferg's Depot was milder, and likely stabilized with vinegar early in the processing of the roots.
If you would like to shuck your own oysters, you might be interested to learn that Lombardi's Seafood on West Fairbanks in Winter Park carriers over 60 varieties of oysters. They normally stock two or three varieties in the case out front, but there is an oyster explosion out back. Stop in, and they will show you how to shuck 'em and suck 'em. Make sure to pick up some fresh horseradish, lemons, Worcestershire, and hot sauce while you're there.
We might be landlocked, but we're not shut off from delicious, quality oyster options.